Lebanon County Career and Technology Center Receives Donation from Cleveland Brothers
The Lebanon County Career and Technology Center (LCCTC) received a generous donation from Cleveland Brothers, a construction equipment and truck service company, in Ephrata. Account manager, Bradley Kirk, had a new Caterpillar mini excavator delivered to the school which will be used to train students during the 2018-19 school year. This gift is valued at nearly $27,900.00 in reduced rental fees. The mini excavator will support students enrolled in the LCCTC's Electrical, Landscaping, Masonry, and Plumbing programs. Jason Groff, Director of Safety & Education at B. R. Kreider & Son, a family-owned site management, excavating, and paving company based in Manheim, was also instrumental in making this opportunity possible. The contribution from Cleveland Brothers came on the heels of previous school donation of $5,000.00 provided by B. R. Kreider & Son President, Brent Kreider, this past June.
Kirk and Groff are working with the school's Assistant Director, Matthew Schwenk, to further develop this industry partnership which will provide valuable training opportunities for students and prepare them for the workforce. "We are sincerely grateful for the support of our industry partners at Cleveland Brothers and B. R. Kreider & Son and it is an exciting opportunity for everyone involved, particularly the students," said Schwenk. Groff will also coordinate several LCCTC trainings which will be conducted by experienced operators from B. R. Kreider & Son.
The LCCTC offers 23 career and technical education programs open to high school students and adults.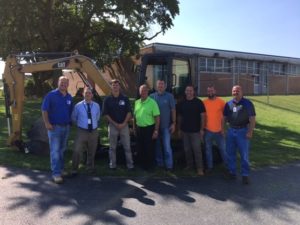 Mini Excavator Donated to the LCCTC: (left to right): Groff, Schwenk, Kirk, Glenn Meck (Director), Mike Schultz (Landscaping Instructor), Josh Boettner (Masonry Instructor), Aaron Westfall (Electrical Instructor), and Jeff Hirneisen (Plumbing Instructor)